Pinterest Growth & Conversion Focused Services from a Pinterest Expert
Hey there and welcome to my blog. My name S and I'm an Expert Pinterest Marketer, Manager & Strategist. Over the last 4 years, I've been helping Brands, Business Owners and Bloggers with creating, building and fast tracking their growth and conversion process on Pinterest to a destination off Pinterest.
Unlike many social media platforms, Pinterest works like a Search Engine, a visual Search Engine. With over 400,000,000 monthly active users and a link back to every post system, Pinterest is structured to give you conversions even with ZERO ad spend.
With over 200 billion pins and counting already on the platform, getting a professional who knows the what, why, where and how of all matters Pinterest Marketing is crucial.
I believe one's skills are only as good as how well they're able to replicate similar or better results for different people in different niches.
Here are numbers from some of the amazing clients I've worked with:
This client went from 0 to over 100,000 impressions in 10 days with only original content.
That's right, no repins at all.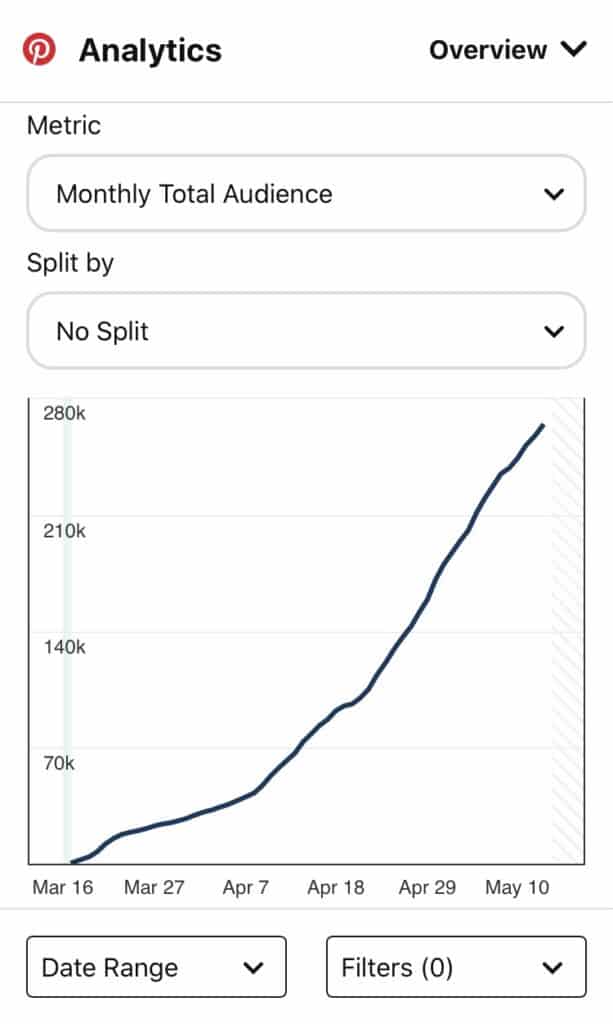 This client that needed an account set up from scratch and managed went from 0 to 500,000 plus in less than 3 months.
This client also went from 0 to 300,000 plus in less than a month.
This blog's numbers skyrocketed courtesy of yours truly.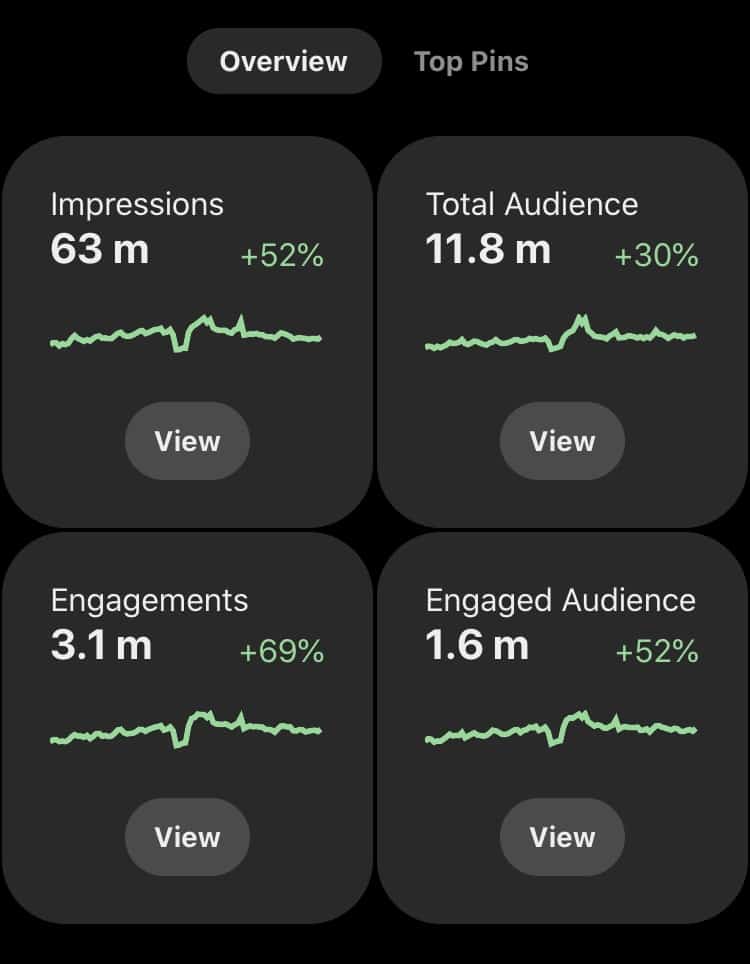 That's 36,000 plus in FREE traffic from Pinterest.
Even with all the Pinterest algorithm changes, this account that I manage is still averaging 50,000+ outbound clicks monthly.
Notice the gradual growth after the Pinterest traffic slump that hit most accounts due to algorithm changes? My strategies are carefully researched and implemented for steady growth and Conversions.
I grew my first blog to over 100,000 page views in 5 months & joined a premium ad network- Mediavine.
Your brand, blog or business could use a seasoned Pinterest Marketer.
Check some of my packages below and let's get your Brand before the right eyes.
Pinterest packages
Basic package:$650
For Brands and Businesses who have no Pinterest presence or are in the early stages of building one.
PS- Account creation is billed separately.


Gold package:$850
For Brands and Businesses who already have a Pinterest presence and are in need of a Pinterest specialist to give it a boost and increase conversions.
PS- Account creation is billed separately.
VIP package:$2050
A premium package for established e-commerce brands in need of a Pinterest specialist who'll maximize growth and conversions from organic traffic and ad budgets.
PS- Account creation is billed separately.
Ready to get started? Please email me your details first so that I can advise further on what package suits your brand best and whether I'm a good fit for your brand.

Pinterest account set up
Setting up your account correctly is the first step to a successful Pinterest growth and marketing strategy. The goal is to make it easy for your target audience to find you.
From boards, to your profile and even your choice of keywords. This package ensures that your account is properly optimized from the beginning.
Pinterest audit & strategy creation
Have you been trying to grow your Pinterest account with little to no success? This package will help you narrow down what's working, what isn't working and how to improve it.

I will do a full account clean up that will involve search engine optimizing all your boards for Pinterest and Google ( yes this is a thing), archiving pins and boards that no longer fit in your niche and looking for broken links.
I will also look for niche specific content gaps and create boards for them to maximize on the traffic you're already getting from Pinterest.
The audit will end with a customized Pinterest Strategy that will be created using data from your Pinterest analytics, Pinterest trends and up coming season relevant content. Summarily, a what to stop doing, what to keep doing and a what to start doing.
Pin your Way to Conversions- $50
Prefer to go the self paced route? Pin your Way to Conversions is a comprehensive Pinterest Growth & Marketing Blueprint that teaches you everything you need to know about creating, building & diving unlimited traffic to your Business, Brand or Blog using Pinterest with ZERO ad spend.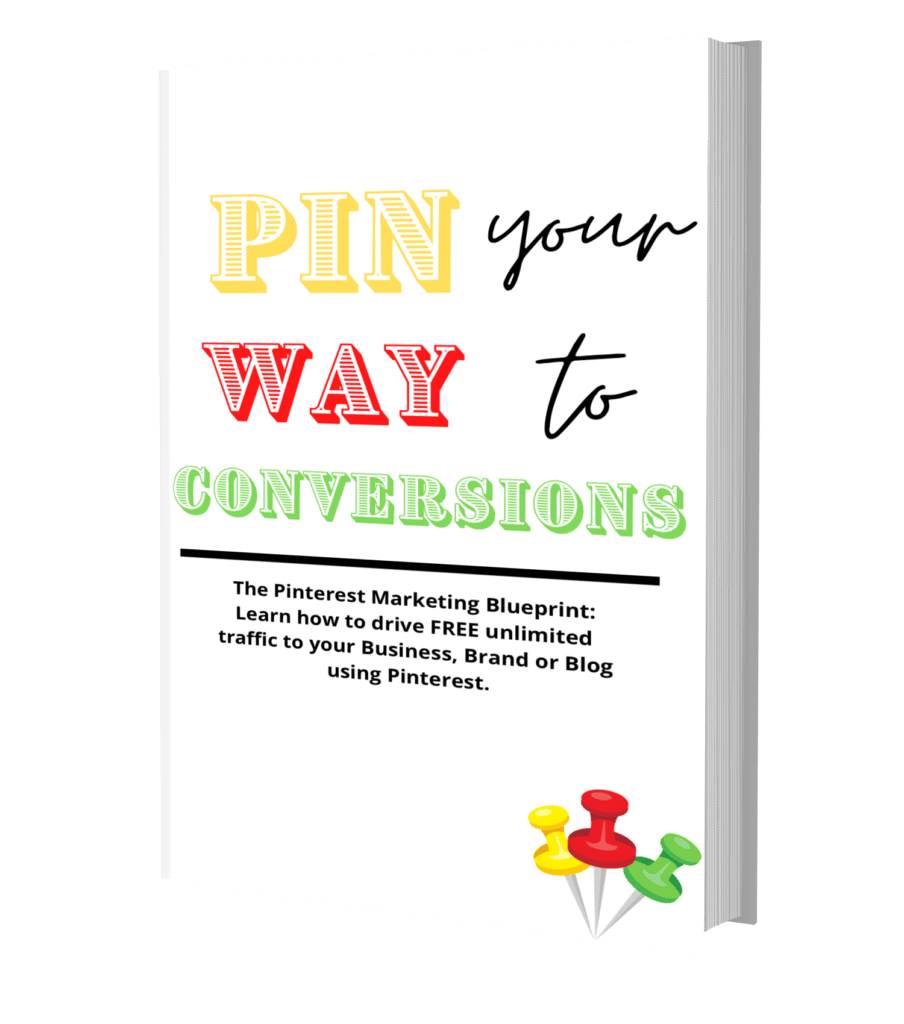 Got any more questions about these packages or general inquiries? Drop me an email at info@sthemarketer.com .