Unlike many social media platforms, Pinterest works like a Search Engine, a visual Search Engine. With over 320,000,000 monthly active users and a link back to every post system, Pinterest is built to give you conversions.
In fact over 75% of the content on Pinterest is content from businesses. Much unlike Instagram which is made up of on platform content, Pinterest is made up of off platform content.
This means that users on Pinterest save content from 3rd party sources.

Pinterest is also one of the few platforms where users do the marketing for you. Ah, I can already hear all the "HOW's"! So let me bring you up to speed on how Pinterest works.
How does Pinterest work?
Like I mentioned earlier, Pinterest works like a Search Engine. This means that properly Search Engine optimizing your accounts and pins will be crucial.
On Pinterest, users get to post pins on their boards. Boards are where pins are housed and a pin is simply a post. After they save a pin, other users then get to re-pin/save it, tap to zoom in or click to be taken to a destination off Pinterest.

Subscribe to my mailing list to get a FREE Pinterest for E-commerce Search Engine optimization E-book.
There's no limit to the number of times users can save a pin. If your pin is properly keyword optimized, it can spread like wildfire and reach hundreds of thousands of people.
The more people save a pin, the higher the link clicks will be. All you have to do is follow all the proper Pinterest Search Engine optimization practices and let the algorithm do the rest.
For example..
This pin was seen 900,000 times on Pinterest. All I had to do was optimize it, pin it and allow the algorithm to do the rest.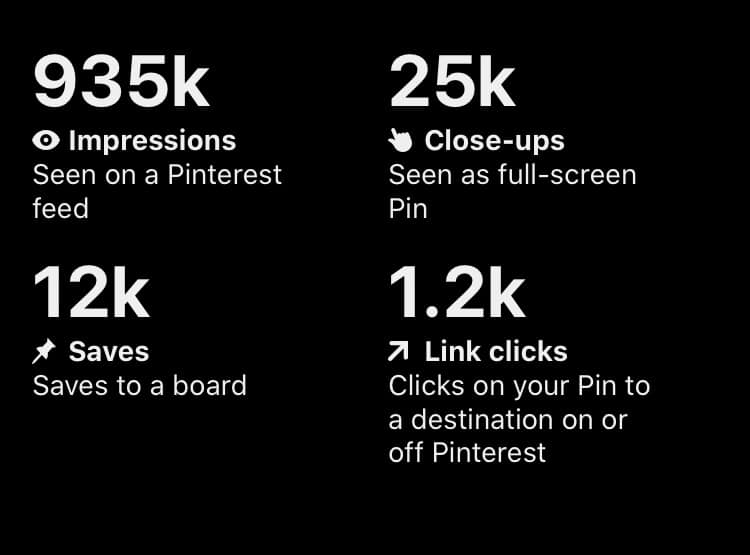 If your pin is:
Compelling.
Has a CTA.
Has a keyword optimized title & description.
Linked back to your desired destination.
Clear and of a high quality.
A beautifully designed pin graphic.
People will click on it.

However, with over 1 billion pins on Pinterest, you'll need a good Pinterest Marketing strategy to maximize your visibility and conversions. A good Pinterest Marketing strategy is comprehensive. This is why you need a comprehensive Pinterest Marketing course.
Pinterest Growth & Marketing Course for Businesses Owners, Brands, Bloggers & Creatives
Over the last 3 years, I've been helping different Brands, Bloggers and Business Owners with creating, growing and profitably scaling their Pinterest presence.
Within that timeframe, I've picked up different strategies and methods that help in fast tracking the growth and conversion process on Pinterest. I put all these strategies, methods and hacks in an E-book called Pin your Way to Conversions.
What is Pin your Way to Conversions?
Pin your Way to Conversions is a comprehensive Pinterest growth & Marketing course that teaches you how to fast track your growth and conversion process to a destination off Pinterest.
Who is Pin your Way to Conversions for?
Pin your Way to Conversions is for Business Owners, Brands, Bloggers, Influencers & creatives looking to utilize Pinterest as one of their marketing channels.

If you're wondering what you're going to learn in Pin your Way to Conversions, here are some of the things I cover.
How to set up your Pinterest profile for conversions.
The different types of pins on Pinterest and how to utilize them- Video pins, story pins & rich pins.
A whole section dedicated to understanding and navigating video marketing of Pinterest using video pins.
A break down of video pins and how to determine whether you're getting good conversions.
How to create pins that convert.
Keyword optimization.
Incorporating trending content to your Pinterest strategy.
Pin graphics design and types of pins that convert the best.
Viral pinning.
Shoulder niches.
Automation.
10 different ways on how to make money on Pinterest without a blog.
I also have a second separate section where I dive deep into Pinterest Marketing for:
E-commerce.
Affiliate links.
Email lists.
And drop shipping stores. I used these same methods to do over $2000 in sales in just 1 month of dropshipping using Pinterest with zero adspend.
All the methods & Pinterest strategies used in Pin your Way to Conversions are organic and require Zero ad spend.

Are you ready to level up your Pinterest Marketing game and get easy conversions? Grab it below at only $50 or get 20% off when you use the code pinterest at check out.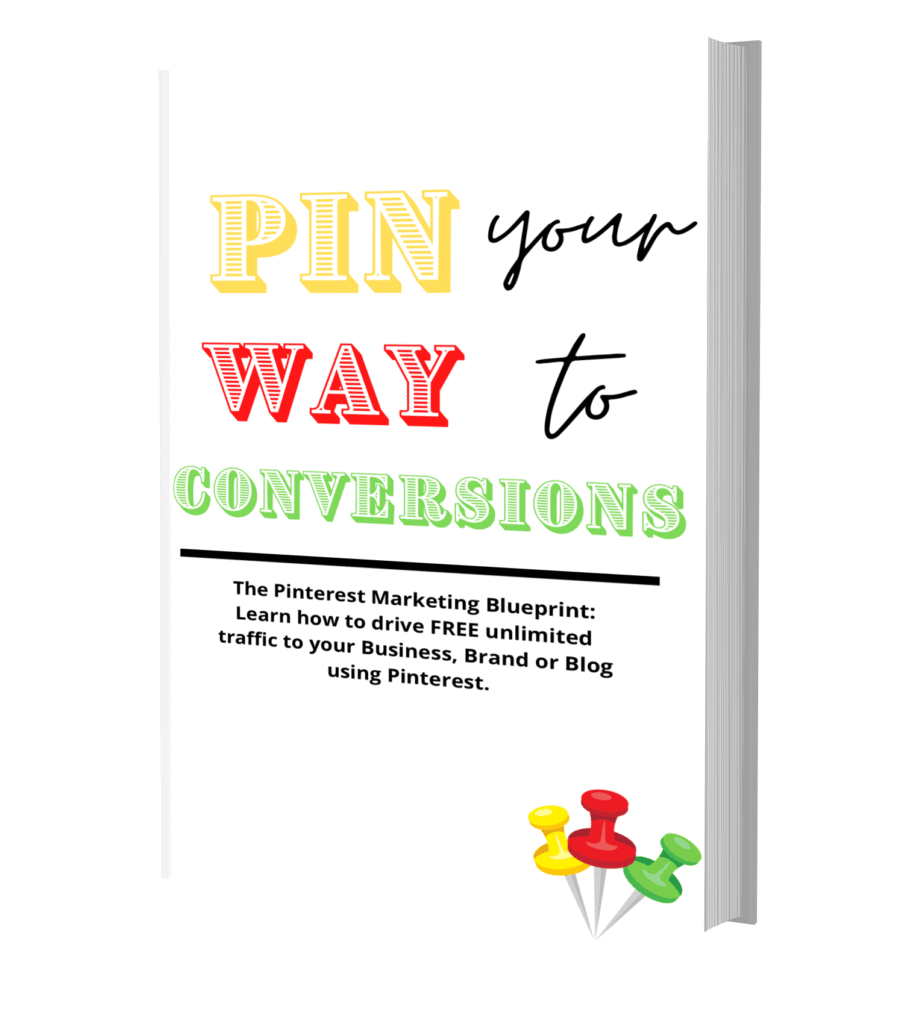 If you're a boutique owner, I have a Pinterest Marketing E-book that's customized for Boutique Owners.