Food is one of the Pinterest primary niches and in my opinion plus experience the easiest to grow on.

With more than 15 billion food related pins on the platform, the audience that you as a food blogger are looking to target already exists on the platform.
This also means that you can't just go into it blindly without a defined strategy in place.
Let's get into some tips and actionable steps food bloggers can incorporate into their Pinterest Marketing strategy.
Pinterest strategies for food bloggers
Proper Pinterest Search Engine Optimization (SEO)
Pinterest works like a Search Engine, a Visual Search Engine.
On Pinterest for every keyword, three things have the probability of ranking:
A profile/account with the keyword .
A board that has the keyword.
The keyword itself – different pins that contain the keyword.
Properly search engine optimizing your content will enable you to rank in one of these places.
2) Optimize your profile
While using only your blog name might seem like a good idea, this won't help you rank for keywords you're targeting.
Let's say you run a vegan food blog called Fahari.
A properly optimized profile would look like this-
Fahari | Vegan recipes
Or Fahari | Vegan blog
You can also use Fahari | Easy vegan recipes
Include the keywords for whichever niche you're in in your profile.
The keyword(s) you're targeting should also be included in your boards and profile description.
3) Use high quality images
Investing in high quality images will largely contribute to how well your food blog does- not just on Pinterest.
Pinterest is a visual platform. The more high quality, appealing/aesthetically pleasing an image is the higher the chances of people clicking on it will be.
Play around with different flat lays and take different variations of your image.

This could be different backgrounds, cutlery or food styling.

The new Pinterest algorithm prioritizes fresh pins.

Fresh pins put in a simple way are images or graphics that shows users a different perspective of the same thing.
The more images you take/have, the easier it will be for you to post new content everyday.
4) Pin graphics
Using high quality and well designed pin graphics will go a long way in helping you get more saves and link clicks back to your blog.
Images with text overlays often get higher click through rates. These shouldn't be any type of text overlays. The text on your pin graphics should also be keyword optimized.
Is your banana bread recipe gluten free? Let people know that in your pin graphics.
Notice how I left out impressions? Impressions don't mean much unless people take action and either save or click to visit your blog which is our goal here.
5) Keyword optimization
This will factor in in 3 places, the board you're pinning to, the title of your pin and the description.
The board you're pinning to should be a relevant and keyword optimized board.
Your title should also be keyword optimized. Is your gluten free banana bread recipe a 20 minute recipe? Let your title reflect that.
Your description should also be keyword optimized and include a CTA (call to action) that reflects the action you want them to take.

Do you want people to click through and go to your website? Or maybe you want them to post pictures and let you know how it went. Let them know that.
Pro tip: The more people engage with your pin, the higher the Pinterest algorithm will rank it.
Do a quick search for a pin that ranks at the top. 9 times out of 10 you'll notice that it has a lot of picture comments/comments in general.
6) Utilize video pins
Video pins are one of the most underutilized type of pins on Pinterest and the easiest to grow an account with/get conversions on.
This is largely due to a couple of reasons:
They autoplay as the user scrolls down on their timeline unless the user turns them off on their own. Few people do this.
Pinterest let's you target specific and different keywords for every video pin you upload.
Video pins allow users to engage with your content in real time.
Create video pins for your recipes and optimize them properly.
7) A/B testing
Pinterest are always making changes to their algorithm and best practices.

Your best shot at continuously getting high traffic will be testing different strategies and methods.
Test;
Different pin graphics- Play around with different colors, fonts and overlays.
Different titles- Try ones that include your USP and ones that feature keywords. I.e 20 minute healthy banana bread recipe / easy and quick vegan banana bread recipe.
Different pin images- Try using before and after photos in your pin graphics with the first featuring some ingredients/your cooking setup flatlay and the latter being the final product.
Different pin descriptions- Why should the users click on your pin to check out your recipe? Does it save them time? Does the recipe only feature 3 ingredients? Will they only need one pot? Include what would appeal to them the most.
Different types of video pins- Experiment with fast paced preparation/cooking videos and include a CTA in your last slide.

People love food video pins. Don't get discouraged by Pinterest hiding the click button. A simple tap the 3 dots and click visit website to try this recipe goes a long way.
There are so many other strategies and key things you need to implement to have a successful food blog.
Key among these things are:
Utilizing the today section.
Trending content.
Leveraging season relevant content.
Story pins.
Rich pins.
Creating a customized pinning strategy.
I cover these and many money strategies in a very detailed and expansive manner in my Pinterest E-book. Pin your Way to Conversions is a comprehensive Pinterest Marketing E-book that teaches you how to fast track your growth and conversion process to a destination off Pinterest with ZERO ad spend such as:
An email list.
Your blog.
Affiliate links.
An E-commerce brand.
A business.
And even a drop shipping store! Use the code foodblog to get 20% off or get the code directly applied by clicking on the image below.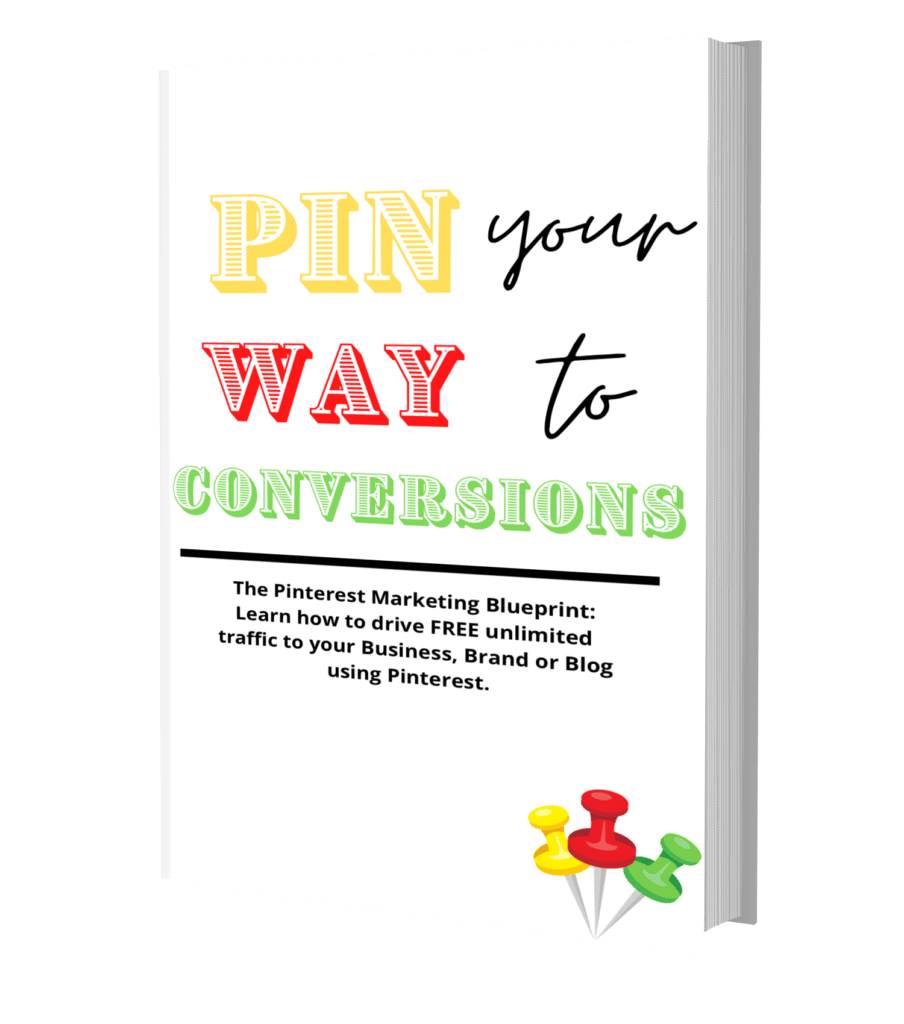 Have any other questions about Pinterest Marketing for Food Bloggers? Leave a comment down below.