To succeed at marketing your Business, Brand or Blog on Pinterest in 2021, you'll need a solid Pinterest marketing strategy.
It's no secret that Pinterest have made a lot of changes to their platform and algorithm this year.

The case will probably be the same in the coming years.

I won't lie to you. There's no big bold secret or hack you'll need. The only workaround to any form of marketing on any platform is keeping up with the times.
However, there are a couple of Pinterest must do's you can't ignore.
Pin for later!
Pinterest marketing strategies for 2021
1) Use the RIGHT keywords
Pinterest works like a Search Engine and just like with every search engine, keywords are king. It's really that simple.
Using the right keywords in your pins, pin graphics, titles, descriptions, boards and board descriptions will be key.
And no, adding 50 keywords in your pin descriptions isn't the way to go.
Use a mix of the search bar, the what's trending on Pinterest section and Pinterest trends to find high converting keywords.

After you find different variations of the keywords you want, add them naturally to the type of content you need more eyes on.
2) Get used to A/B testing
I should've probably started with this one.
A/B test, A/B test, A/B test a lot. I can't emphasize this enough on this blog.

You'll never truly find out what type of content people love the most/performs the best if you don't A/B test.

Before I get too carried away, A/B testing is simply testing 2 version of the same thing.

Let me give you an example.
Let's say you run a natural hair blog where you teach people how to grow their hair. And on your Pinterest account you only use pin graphics to drive traffic to your blog.
If I as a user prefer saving/clicking on images of people who have long hair, your pin graphics will probably never catch my attention.
This is exactly why you should A/B test.

A/B test and make adjustments where you need to.
3) Invest in a comprehensive Pinterest Marketing course
Yes, this again.

There's a lot of conflicting and false information on Pinterest marketing out there.

If you have never bought a Pinterest marketing ebook, there are high chances that you'll keep getting conflicting information.
Conflicting information equals wonky results because you'll be trying out whatever the next person recommends.

Like I've mentioned before on this blog, I like to think of Pinterest marketing as a 3 step process.
Step 1 is where you start off with free resources- a blog post here, a YouTube video there and the like.
Step 2 is where you invest in a comprehensive Pinterest Marketing ebook and you learn the A to Z of Pinterest Marketing.
The last step and what I'll get into shortly is customizing your Pinterest strategy.
I grew my first blog to reach 100,000 plus people in 5 months and joined Mediavine right after that.
While I do get traffic from SEO, joining Mediavine and scaling to $50 to $100 a day in earnings wouldn't have been possible if Pinterest wasn't part of my traffic plan.
I teach you my best methods and more in Pin your Way to Conversions . You can get Pin your Way to Conversions at 15% off below.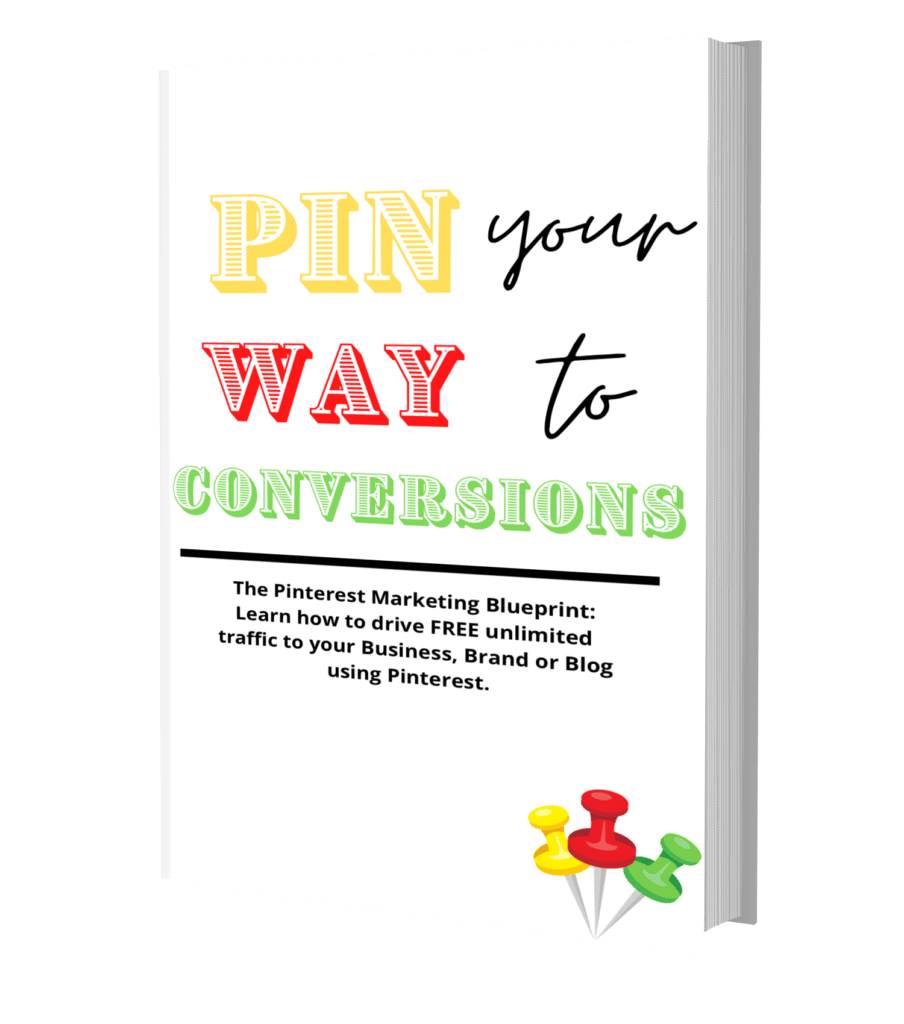 4) Customize your Pinterest strategy
As someone who manages a lot of Pinterest accounts in different niches, I've seen first hand how the same strategy won't work even on accounts in the same niche.
I swear by this strategy and continue to get good results consistently.
Think about it, if you get great results from normal pins and person y tells you how they get incredible results from video pins- and try as you might, video pins refuse to convert for you- will you now ditch what works for you and jump on the video pins bandwagon?
You probably won't. That's the thing. Video pins work for them because they know their audience and they go by their analytics.
Take a deep dive into your analytics and look into what's working and what's not working.
Utilize strategy 2 after referring to 3 and create a customized Pinterest strategy for your account.
Keep at it for 3 to 5 months at most then come back to this blog post and let me know how it went.
5) Use video pins
"Pinterest removed the visible visit site button on video pins so what's the point of using them?"
I hear you and I understand your frustration. Pinterest is nothing like it was in the past.

The harsh truth is, they're at liberty to make as many changes as they'd like because at the end of the day, it's their platform and it's a business.
Some of the algorithm changes Pinterest made in 2020 placed an emphasis on keeping people on the platform for longer.
This is evidenced by them starting to heavily push story and video pins.
I love video pins and I've gotten great results from them. I started using video pins on many of my client's accounts as well as my accounts way before Pinterest started pushing them.
Even sans the visible visit website button on video pins, you can still get good results from video pins.
If your video content;
I) Is good and interactive.
ii) Doesn't give away too much.
iii) Is properly search engine optimized.
iv) Includes the right tags.
v) Encourages people to take action/has a CTA.
Your video pins will convert.
If the visible visit button is no longer available on your account, let people know that they can tap the 3 dots to find the visit website button in your description.
6) Use idea pins
I can already hear all the "I can't add a link to my website so idea pins formally story pins are a waste of my time" comments and other variations.
No seriously it's actually annoying how the people who have access to idea pins are just complaining instead of testing and getting results. I digress.
Idea pins formally story pins are pins in story format just like Instagram/Facebook stories or fleets on Twitter.
NB– At the time of writing thing, what was previously known as story pins on Pinterest were more image focused. Presently, idea pins are more video centred. You can learn how to use the newly revamped story pins now known as idea pins on this post.

Only unlike all those platforms, idea pins on Pinterest;
I) Don't expire after a set period of time.
ii) Can be pinned to your boards like you would with normal pins.
iii) Have a CTA that encourages users to follow your profile at the end.
iv) Lets users add comments or photos.
v) Can feature text, images, videos or links.
Yes you read that last part right. I'm not talking about the copy & paste link option but idea pins that direct people to your website.
I know a couple of people who had clickable idea pins when they first rolled out.

Idea pins are still in beta. So let's hope that Pinterest plan on adding this feature when they roll them out to everyone even if they've said they won't.
I definitely wasn't going to call you out for complaining about idea pins and not give you some tips for getting conversions.
I'll use myself as an example. I'm a Pinterest Marketer & Strategist.
In line with this, I have a Pinterest marketing ebook that teaches those who want to navigate Pinterest Marketing on their own strategies they can use.
A story pin now idea pin I'd go with is having the first slide as something that encourages people to view my idea pin.

Something like how to make money using their Pinterest accounts. Since I have up to 20 slides, I can use these to walk people through the process and add a couple of screenshots in line with this.
Like a screenshot of my blog's ad income from Mediavine, or my affiliate marketing earnings.
I'll then end the idea pin by letting them know they can get a FREE Pinterest SEO course on my website.
Since idea pins encourage people to check out your profile after they're done viewing them, a good chunk of these people might end up on my website.
My Pinterest marketing ebook is linked in my free SEO ebook with a discount code.

So regardless of whether I go this route or let people know that I'm teaching them more on the topic at x percent off directly, I'll still get some conversions.
You can customize this to fit your niche and get as creative as you want with it.
Keep in mind the fact that Pinterest are actively pushing more idea pins to people's timelines. Which means that they'll be easier to rank for/get more eyes on.
7) Post more fresh pins
For the longest time, monthly views on Pinterest were made up of impressions on your own pins plus the impressions on the pins you had re-pinned/saved.
Re-pinning other people's pins was therefore recommended as a growth strategy in a bid to boost this metric.

In 2020, Pinterest made it known that their algorithm was favoring fresh content over re-pins.
This was further solidified by them making updates to their metrics in 2021.
Monthly views on Pinterest are currently made up of the impressions on your pins plus pins saved from your claimed account or domain over a 30 day period.
Simply put, you'll need to publish more fresh content to get more eyes on your pins, which will in turn help with driving your monthly views figure up.

Re-pins will no longer work in your favor but in favor of the person whose pins you're saving.

Unlike in the past where many people insisted that monthly views are a vanity metric (which was true especially if your strategy was heavily reliant on repins), the case is no longer the same.
All of Pinterest's metrics updates mean you'll need to work with all the numbers to get an increase in your desired conversions.
This brings me to my next point.
8) Work with the Pinterest metrics/your analytics
Going by it's currently definition, increased monthly views will mean that you're:
Publishing content that people love.
Pining high quality content.
Publishing Search Engine Optimized content that people are finding with ease.
However, you can't afford to only focus on this figure because your impressions, saves and pin clicks are what you'll need to convert to outbound clicks.
As you're creating new content, think of a pinner's journey and use it to your advantage.
As someone is scrolling on their feed, they'll see your pin (impressions), they'll click on the pin to bring it into view and learn more about it (pin click), they'll then save it on their boards to refer back to it later (saves) and if your pin was properly Search Engine optimized, they'll click visit website to get more information about your pin (outbound clicks).
This is the ideal Pinterest user journey for conversions focused business accounts but not what always happens.
Working closely with your metrics and analytics will give you insight into what you need to make improvements on.
9) Perform regular Pinterest account audits
Not enough people do this.
I love Pinterest's current metrics updates because it will make this process a lot more easier than it was in the past.
This ties in with point 4 and 8 after you get past point 3.
Use your analytics to perform regular Pinterest account audits and do more of what's boosting your desired conversions and less of what is making the conversion process hard.
If you have no idea how to go about this, this post takes you step by step through a typical Pinterest account audit.
Other than what you already know or knew, that's all there is to it. Pinterest is a simple platform. Don't complicate it.